Unless you're a gardener, you may not know that April is the perfect time to eat fresh peas! So this week in food, we gave you delicious, healthy pea recipes.
First up for Meatless Monday was a Fresh Pea and Garlic Gazpacho that is perfect for spring and summer meals.
This Green Goddess Salad of Quinoa, Avocado, Peas, and Pistachios is a perfect healthy and filling lunch.

Image and Recipe via Journey Kitchen
This Barbecue Salmon and Snap Pea Slaw recipe is a fun take on summer classics that clocks in at just 268 calories.
If you're a beginner to cooking Thai food, this Easy Thai Green Curry is a great starter recipe, and you can use also use frozen peas to make it year-round.

Image and Recipe via The Collaboreat
Trick your kids into eating their peas with this tasty appetizer of Pea Pesto Crostini that makes the vegetable into a cheesy and smooth dip.
Newfangled Peas and Carrots are the perfect side dish for gardeners, using the tender sprouts of the plant.
This Slow-Cooker Coconut Ginger Chicken and Vegetables is a rich and creamy stew featuring pea pods.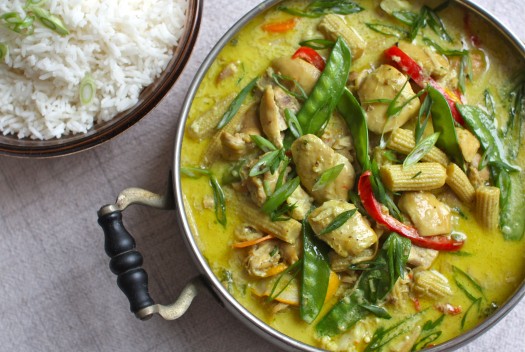 Slow-Cooker Coconut Ginger Chicken & Vegetables
Save